The last weekend I attended the
Vienna Create camp 11
, a great event for collaboratively creating applications related to open data and accessibility. 6 members of
Drupal Austria
formed a team to make use of open data published by the cities of Vienna and Linz. Unfortunately, it turned out that the data is published in various different data structures and formats, so re-using the data in an efficient manner is hard. It's nice to see that the city of Linz is using
CKAN
to publish the data, so there is some basic information about the data sources (format, url, ..) available. However, still each data set is published using different data structures, so making use of a data source requires writing or configuring a specific adapter. So, we've started "drupalizing" the data by using feed importers, whereby we've configured one content type and feeds importer per data source. Fortunately, once the data is in Drupal we can use it with all of Drupal's tools. So publishing the data as
Linked Open Data
is as easy as enabling the "rdf" module of Drupal and providing some meaningful mappings. For that, we've made use of
Schema.org
vocabularies as far as possible. Now, all imported data items are available via
RDFa
,
RDF
,
JSON
or
XML
. But most convenient is probably the
Sparql endpoint
, which enables one to directly query the published datasets. So finally, we have real Linked Open Data of Austria - yeah! Then, we've made use of Openlayers with some nice base layers from the
TileStream
powered
kartenwerkstatt.at
to create nice looking maps - check out the
demonstration site
. Next, we've published our open data features at
drupal.org
, so everyone can easily make use of our work and quickly use all that data by using Drupal. See
http://drupal.org/project/odv
.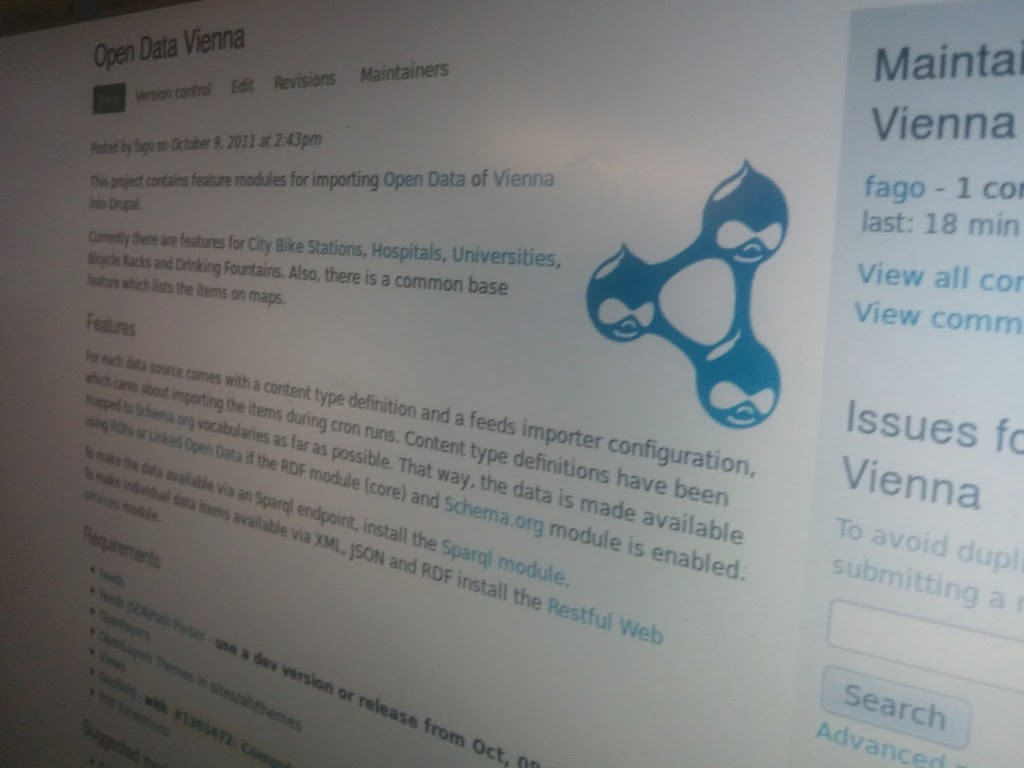 Unfortunately, the data of the city of Linz required some custom massaging in order to get proper geo coordinates from the project they used. Thus, we were not able to create easy to use feeds configurations for Linz as we've done for Vienna. Maybe the city of Linz improves that in the future... Participating Drupal Austria members: